Ever since she was a kid, Victoria has been in love with radio and music. In school, Victoria would always get in trouble for being too loud. Given that she loves music and loves to talk it just made since that Victoria work in radio.
Victoria started working in radio in 2010 for a country station in Cincinnati, Ohio. One of her favorite things was working concert remotes where she got to meet listeners and even the country artists. In 2012 Victoria moved to Alabama, her husband, Coty is a Cullman county native.
The married CAT mom of two currently lives in Cullman County. She likes to shoot "music videos" of her cats, Katniss and Kolby on snapchat. Victoria loves shopping for a deal, taking fitness classes, pop culture, brunch, music festivals (she likes to attend Bonnaroo every year), animals, and vacationing at the beach.
Let Victoria join you on your afternoon drive home from work, on air from 3PM-7PM.
Kolby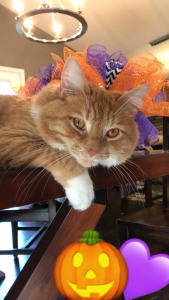 Katniss