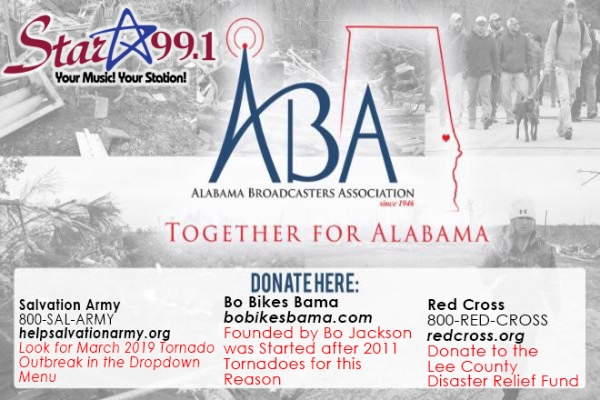 Let's come #TOGETHERFORALABAMA on Wednesday, March 6th and collect money and items for those who've lost so much due to the devastating tornadoes this past Sunday. Red Cross, Bo Bikes Bama and The Salvation Army are all accepting donations by phone, text or on their website.
BO BIKES BAMA
Founded by Bo Jackson, Bo Bikes Bama was started after 2011 Tornadoes, you can make your donations directly on the website at  bobikesbama.com.
SALVATION ARMY
Visit helpsalvationarmy.org  and look for the March 29 Tornado Outbreak dropdown. You can also donate by calling 800-SAL-ARMY (800-725-2769) and specifically say that you are calling to donate for the MARCH 2019 TORNADO OUTBREAK.
RED CROSS
Visit redcross.org to donate for disaster relief or Call 800-RED-CROSS (800-733-2767). You can also text REDCROSS to 90999 to donate $10 to disaster relief.